SpolarPV is the exhibitor sponsor of the genera 2020
22-01-2020
SpolarPV, a High & New Technology Enterprise located in Nanjing-China, has joined as Exhibiting Sponsor in Genera 2020. The expo is scheduled to be held in Ifema-Parque Ferial Juan Carlos from February 5th to 7th, 2020. SpolarPV will showcase its leading services and technologies in the 10A45A exhibition area. welcome your visiting.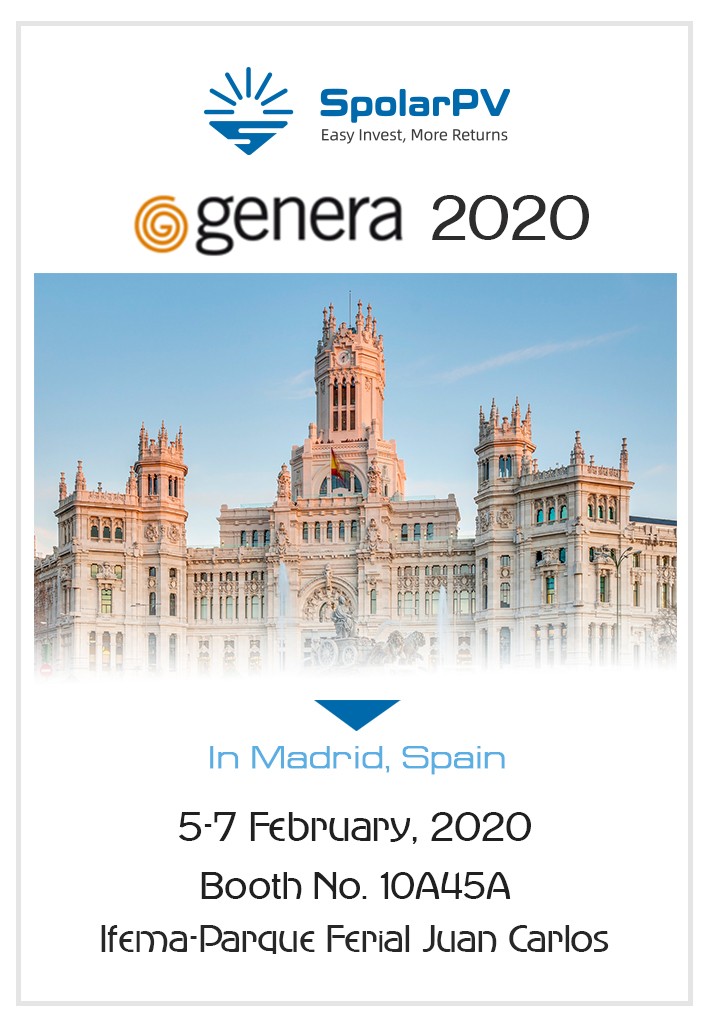 Genera 2020 is one of the largest and most influential environmental energy exhibitions in Spain. The exhibition is an international special exhibition of environmental protection and energy. Since its establishment in 2003, the exhibition has been successfully held for 15 sessions. Every time Genera is launched, it will attract dealers, distributors, manufacturers and other industry professionals from the world's environmental energy industry. Industry decision makers, distributors and potential customers meet here to discuss their business plans.
Spain's 4.7GW installation wins the championship in 2019, and European photovoltaic "installation boom" erupts!
Spain is a world leader in all solar-related technology industries. Regarding the concentration of solar energy, Spain ranks first in the world with the installed capacity of its commercial systems. In addition, the world's major thermoelectric companies are located in Spain. Of the projects related to solar thermal power generation, 78% have been implemented by Spanish corporate institutions. According to the latest data, by 2030, solar energy is expected to reach 47.1TWh of electricity generation, becoming the country's main source of electricity. Overall, the demand for energy storage is expected to reach 2.3TWh. In this case, renewable energy will account for 70% of Spain's electricity mix, and solar energy will reach a cumulative installed capacity of about 77GW.